The Ultimate Guide To Starting A Food Business (Part 1) : Finding Your Location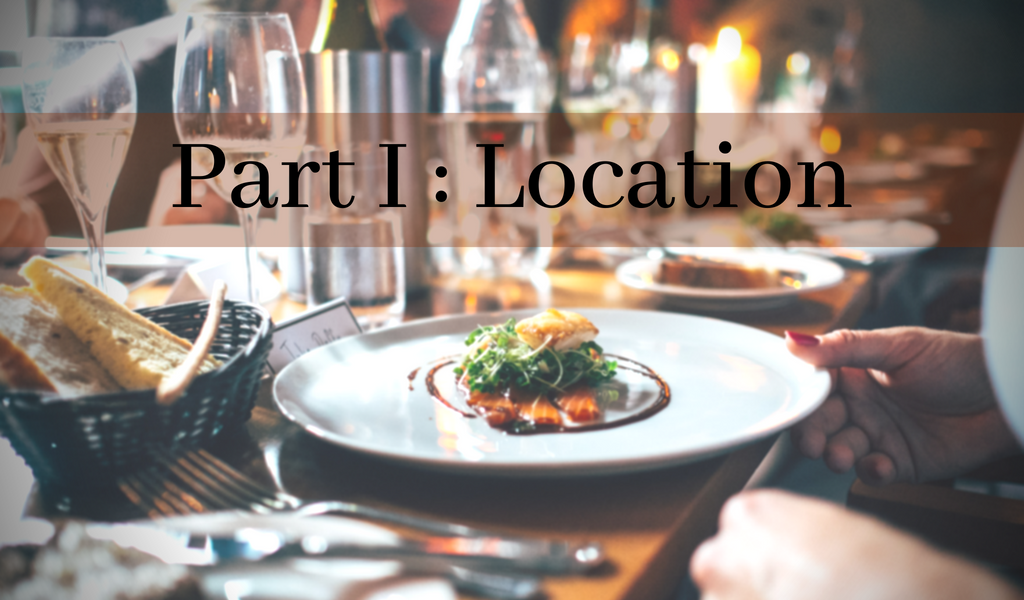 "Twenty years from now you will be more disappointed by the things that you didn't do than by the ones you did do. So throw off the bowlines. Sail away from the safe harbor. Catch the trade winds in your sails. Explore. Dream. Discover." --Mark Twain
The other day, I found myself in the front seat of a Grab Car from Kuala Lumpur city centre to KLIA2. It was a good 50-minute ride to the airport, which means I can do what I love to do - get to know about the life of my Grab driver. I started by asking my normal 'Grab Conversation Starter'."How long have you been a driver? Do you like being a grab driver?"My driver, John (name changed) was a retired Chinese man who happen to start driving cause he was bored at home. As the conversation went on, he talked about regretting not pursuing his passion when he was younger."I wish I would have retired earlier to start my own restaurant. I always loved cooking. My mum had a small stall outside our house, where she will make and sell food to the school children and office workers. When I was young, I always wanted to to be a chef or restaurant owner. I love seeing the same customers come to my mum's shop and enjoy her food, some even became her friend. Now, I am old and tied to my family responsibilities, I don't have the energy to run it."Of course, I said that his age is just a number and he can do whatever that he wants. But the conversation got me thinking. I know a lot of people who would like to do the same. Unfortunately, they are stuck in a corporate job that they are not passionate about. Hence, this post is dedicated to John and others who would like to start their own food business.
---
This guide is divided to 5 parts, starting with Part 1 on how to choose a good location for your restaurant or business.
Location, Location, Location
In the early days, your location will be the life and death of your restaurant - if it's wrong, you're dead on arrival. If it's right, you're still on life support. You need to make sure your branding, prices, location, food and drink offering is all spot on. But, we will come back to the other factors later on in this guide. A good restaurant location is harder to find than some people think. Getting the right location, is a balancing act between the rent and the revenue you will be making. High rent means your bleed rate in the early days can be frightening, leaving you with a short runway and little margin for error. However, if you know that you'll generate business from that location, then you might consider it, but you'll need to be able to afford the upfront costs before you turn profits. The reality is that finding the dream spot will not happen overnight. We have heard stories of restaurant owners who have travelled multiple cities, scouting each location and going as far as counting pedestrian traffic. These are the factors that you have to consider while you are shopping for your location:
1. Out of Sight, Out of Mind
Unless you are opening a speakeasy or your marketing strategy includes being tucked in a side street with little foot traffic, always make sure that your restaurant is visible and easy to find. It's a bad first impression if it takes your customers 20 minutes to locate your restaurant after reaching at the spot that Google Maps lead them to. Go into finding your location assuming that people are lazy and unwilling to accept inconvenience or pain. Start by looking at the foot and car traffic patterns. Look for a location accessible to major arteries, with easy entry and exit. If you are in a multi-storey building, higher floor is better as it's more visible from far. If you are in a food complex or a food market, having clear signs with clear branding that is easy to remember is important. When you are considering car traffic, look for locations that people can drive pass your location.  A good example of this is Chatime and McDonald's.
2. Parking Is a Must
In Malaysia, a country with 28.2 million cars, a nearby convenient parking is an absolute must. If your customers need to spend time looking for a parking to eat at your restaurant, they may opt to go somewhere else which is "more convenient." It's a rule of thumb for a good location to have at least a general parking with reasonable rate, within 5 minutes walking distance from your restaurant. Also, consider checking out the availability of the parking areas during peak hours before deciding.
3. Know The Size That Works For You
(p/s: Size Does Matter)
Having a good idea of your floor plan can help you to make a quicker decision on the best size for your business. You can use tools like https://www.roomsketcher.com/or autodesk Homestyler to get an initial idea without losing too much money on an interior designer. Things that you should consider while you visualise your floor plan:
Do you want your customers to have a spot to line up or to wait while they wait for your tables to be ready?

How do you imagine your kitchen, or preparation area to look like and how much space do you need?

How do you want your seating area?
4. Check Your Neighbourhood
When you get a location, you are not just getting married to the location, but also to the neighbourhood. Walk around the area to find out who will you be competing with. Visit prospective restaurant sites during different times of the day, during the week and on weekends. Remember that successful businesses around you will attract more customers as a whole compared to empty storefronts. Questions that you should have answers to about the general area before you make a decision:
Is the area really busy during the work day and dead at night and on weekends?

Where do the general public go for lunch? Dinner?

Which restaurants are popular in the area and why?

Are there already other restaurants with the same concept as yours?

How is the crime rate in the area? High crime rates can make potential customers uncomfortable, and if they feel they'll be mugged walking to their cars.

Do the place suffer from bad feng shui (housed one failed business after the other)? Generally it's good to avoid these locations as people tend to associate with the failed restaurants. 
5. Do a Safety Check
Some locations might look great from outside, but might not come equipped with proper wiring, fire alarms, restrooms, ramps for the handicaps, etc. Most agents might hide these information from you to make a quick sale. So, asking the other shop owners or managers in the area is the best way to find this information. If you end up going for one without these facilities, do consider the costs of adding these into your initial budget.
6. Always Negotiate.
Most newbies will start by negotiating the price but there are other things that you should consider:
Negotiate with your landlords on who pays for the general maintenance, or any safety upgrades needed before you can move in.

Only buy a property if you are in it for long term. If you are thinking of short term, it's better to just lease. Buying requires a huge down payment with no tax advantages (although you might make money from the property price increase). Leasing requires a small security document with monthly payments, hence it's cheaper. You will also get tax deductions for leasing.

It's common for agents and landowners to rope you into a five to ten year lease, but don't go into it if you are not sure about how well you will do. Ask for one or two year lease to start. Once you are more confident, you can opt for a longer lease.
That's it from us for part 1 about finding the perfect spot for your new business. Did we miss something? Do you have any other tips you learned while looking for yours? Share with us in the comments and we would love to learn from you!And if you already found your place, don't forget to source your business supplies from Dropee!