Setting Up Your New Office Easily With The Help of Dropee!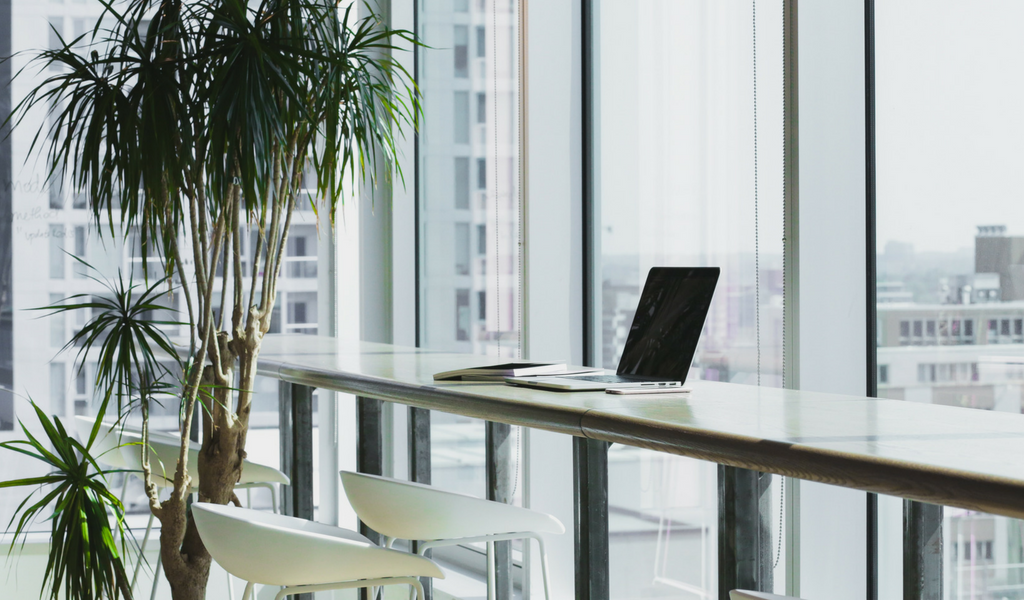 On average, most of us spend more than 7 hours on our office table daily. Now, imagine looking at the same view of a normal boring office desk and work area. What a bore, right? Well, the easiest way to solve this is simply to decorate your work space. Not only it will please your eyes but also at the same time proven to increase productivity. There are plenty of office decors and workspace inspirations you can find out there. But here we have picked out some of the sleekest, cleanest, and coolest workspace decors and designs for you to start decorating your soon-to-be stylish new office.
1. First Thing First, The Furniture!
Less is more! We can't agree more with this especially in terms of the office furniture. Stick back to basic by going for a simple white furniture with contemporary design like this. Get inspired with a clean looking workspace that gives you a better ambiance and gets you in the mood to be productive. Good news, you can always find office desk with a similar design here on Dropee to save you the hassle.
2. Declutter with Organizers
Declutter your workspace, declutter your mind. You might have heard of this a few times before but trust us, it works! Make sure you have enough space to organize your office stuffs including those bulky files, papers and pens, and other miscellaneous items by having sizeable shelves or desk organizers. A pigeon hole cabinet from Dropee here for example would be a great idea to store your items in an orderly manner where you won't have to search for another misplaced file anymore.
3. Get Crafty with D.I.Y Wall Decor
Most rookie's mistake would be focusing way too much on decorating the office table and missing out the other spaces you have around you. How about branching out to the wall instead? Roll up those sleeves and spruce up your wall with some D.I.Y wall art, wall planner, and even a frame or two of motivational posters to keep you going. Plus, get the D.I.Y essentials you need such as wrapping papers, glues and tapes easily from Dropee.
4. All About The Accessories and Table Decorations
Make your workspace homey by having accessories such as framed photos of your loved ones, colourful decorative items, cute journals, figurines of your favourite characters, souvenirs from friends and families or whatever else you would like to have. Place it on your desk, on the shelves, in the cabinet, practically anywhere you find suitable to make your office more personalized and colored with your personality.
5. Add A Splash of Green!
Adding a splash of green to your workspace is not only a great way to add colour but also to promote better ventilation and air quality to your office. Just get yourself some potted indoor plants such as cactus, bouquet of flowers, leafy green plants or tiny terrariums and voila! Your office is now eco-friendly and better for health in no time. Friendly reminder though, we would advise you look for indoor plants that require low care or easy maintenance for convenience sake.
6. Calming Scents to Soothe Your Stress
Many may not know that our sense of smell can affect our quality of work more than it should be credited. Science says that the sense of smell has a powerful effect on the brain relating to emotional processing, fear, pleasure, motivation, learning process, and memory. It is proven that certain scents like peppermint, lavender, and rosemary can enhance alertness, concentration, and memory, so what are you waiting for? Get scented candles, air fresheners, essential oils or aromatic diffusers for your office now!
7. Stock Your Pantry Full
Yes, stock up your pantry as we know you can never have enough of those munchies! The pantry is just as important as your workspace so make sure you keep it well stocked. Then, you can have your favourite snacks and coffee to go with your nicely donned up new office but do be careful not to spill any! Another bonus for you, stock up easily on your snacks and drinks by getting them in bulk with the help from Dropee.
Conclusion
We hope that these office decor and ideas can help you to find inspiration in revamping your work space. Plus, you would feel like those working hours pass by like a breeze and coming to work would be exciting again. Also, to make things easier, you can always find the decorative items and furnitures that you need on www.dropee.com so it's time to start decorating now!